Day 1 of my Six Week Training Intensive
Day one started off with a bang. Literally! Well more like a rip than a bang. I was in the gym for my first day back at training and the start of my 6 week intensive program doing the third set of my first exercise when I felt a lightning bolt go through my lower back. I had trouble even re-racking the weights and more trouble putting my shoes on as I got changed.
Hmmmm…
Well, I could get all bummed out about this, but I'm not. I simply have to take a few days to rest up. I was to start another 6 week fitness boot camp at my fitness club this morning, but alas, decided not to do that. Good thing because even getting out of bed this morning was a challenge. Even as I sit here, if I move just slightly the wrong way, I feel my back tighten up.
So, no yoga, no cardio, no weight training and no boot camp for a few days. We'll see what happens tomorrow. I'm a guy and I figure that as long as I can stand upright, I should be able to do some form of cardio, lol.
I am however back on my regular food program again.. watching my carbs and eating more from the protein end of the spectrum.
All fruit is gone once again until next summer. It was a treat to be touring Canada's Okanogan a few weeks ago and try some of their fruit picked straight from the trees.
We had come out from having lunch along side the road to get into the car and then look up through the sun roof. I realized we had parked underneath a cherry tree. We got out and began to pick some fruit and eat it. I even broke my "fruit on an empty stomach" rule and ate the cherries. Loved them. Sonja was picking from the low branches while I had a good source of fruit way up high in the trees. It's great being tall!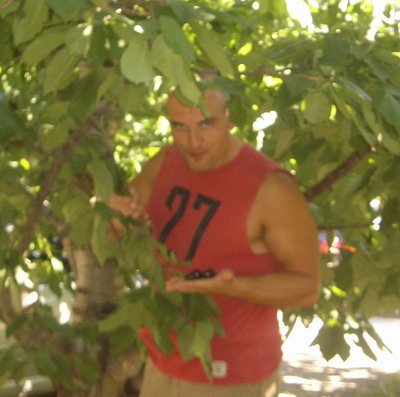 Tomorrow I have a first aid re-certification class, so cardio will be out for sure until later on in the evening after I train and that's only if I'm able to manage it.