Vegetarianism Served Me Well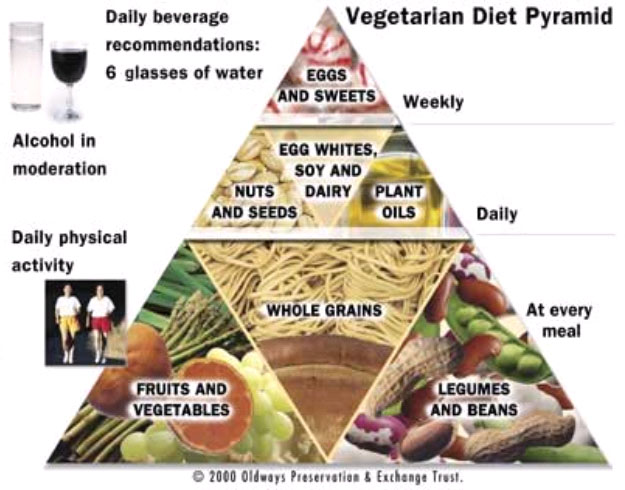 I drove 8 hours to my home town in
Saskatchewan Canada to spend the Easter
holiday with my father. My sister flew out
to Saskatoon and then her and her husband
drove in on Saturday to visit as well.
While out for supper with dad, I mentioned
to my sister about the sudden increase in
interest of vegetarianism. I've noticed
over the past few weeks a "renewed" or at
least a spike in interest for raw foods,
vegetarianism and veganism. I've been
receiving emails about my own vegetarian
roots and how it affected my w.eight l.oss.
My sister agreed and said that she's noticed
an increase as well and that it seems to be
coming back into fashion. My sister is a
dietician. She follows and teaches the
Canadian Food Guide version of nutrition so
we agree to disagree on a lot of health and
nutrition points. Her and her husband
recommend peanut butter for example, while
I recommend Almond Butter as a far superior
nutitional source. Her and her husband
dont really believe that 80% of the
population are wheat sensitive, while I
recommend doing the "wheat free test" to
decide for yourself.
anyway, I digress. I do that occasionally.
When I first started my health journey, back
in 1991 or so, information on raw foods,
food combining and vegetarianism came my way.
I've always believed in "trying" things and
judging for myself the results. What I
read about vegetarianism from the Diamonds
and from John Robbins led me to try it.
As I adopted a more natural diet, a lot of
things changed in me and I really began to
feel better and drop even more w.eight.
I still struggled with cravings and was
still addicted to drugs and alcohol.
Imagine that. Taking such a healhy turn
in my life, but still smoking drugs.
It was only after the introduction of a
very powerfully concentrated form of
chinese whole foods from a company called
Sunrider that my stress levels were reduced
and I was able to remove all addictions
from my life. In fact, it was at this point
that I created a new addiction. The addiction
to weight training.
I went through months where all I ate was raw
foods. My motto was "if I put it on the counter,
and if it rots, it's something I'd put in my
body". Processed foods were out. It had to
be alive to make it into my stomach.
I got very very very thin. Got down to 187
but I figure I was still about 30% body fat.
I was quite gaunt and had no muscle tone.
I kept weight training and relied mostly on
oatmeal and brown rice for my protein sources.
If you're currently vegetarian and NOT eating
oatmeal, I'd advise that you do. Very good
for you. I recommend "Bob's Red Mill" steel
cut oats or scotish oatmeal.
I know it was the Sunrider foods that allowed
me to put on so much muscle and keep my blood
sugar levels even and my energy levels up.
I'm so thankful I have them in my life.
I kept at the vegetarianism until Nov of 2003
where a new girlfriend wanted to cook me some
chicken. I had been thinking about having
meat come back into my life for about a year
prior to this. I had to deal with the moral
issues I had about it, but the lessons I teach
are all about "trying things" and recording
the results. I'd been weight training for
years and with my body type, I SHOULD be eating
animal protein. I decided that all the factors
were in alignment and would give it a go.
the final factor involved was a discussion I
had with Dannion Brinkly (http://www.dannion.com/)
author of "Saved by the light". Dannion has
died a number of times and the talk I had with
him was way beyond what I could ever describe here.
The new girl cooked the chicken and I loved it. I
noticed changes in my again over the next few days
and the doors once again opened to a whole new
realm of nutrition information regarding proteins
and how it affects f.at metabolism and f.at burning.
I have since kept the animial proteins in my diet
choosing to eat fr.e.e range chickens and eggs
over the commercial variety.
so far, so good. I'm happy where I'm at with
this decision.
Vegetarianism played a huge role in my understanding
of health and nutrition and I'm so very thankful
for the experience. There are times when I
recommend it for people to get through specific
issues that they're going through and would not
question a return to it if it felt right to me.
Here are some great vegetarian resources.
Vegetarian and Vegan recipes from around
the world:
International Vegetarian Union
Chef Beverly Lynn Bennett's Vegan Chef:
www.VeganChef.com
an online guide to vegetarian restauraunts
around the world. Searchable.
www.vegdining.com
And...
The most comprehensive website for everything
raw, organic and health oriented. David Wolfe
is a leading writer and practitioner of
"the Power of Raw".
All your Raw and living food products:
www.rawfood.com