Cruise 2005 - Panama, Costa Rica & Belize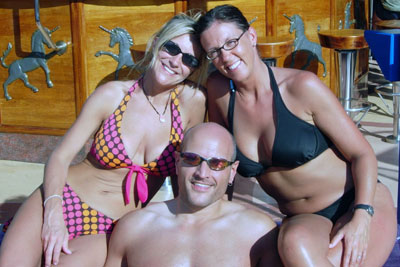 I was supposed to be in a meeting when this photo was taken.
I spent 8 days on the Carnival Pride cruise ship sailing from Ft Lauderdale to ports of Panama, Costa Rica and Belize. Had 7 days of sun, and one morning of rain in Costa Rica (surprise surprise). It was still awesome as we went Whitewater rafting on a warm water river and had warm water raining down on us too. I've only Whitewater rafted in Canada where it's Fricken cold man. We have to wear wet suits just to stay warm.
The cruise had our group of 400 Sunriders and another group of nurses and a smaller group of tattoo artists. It was quite the mix.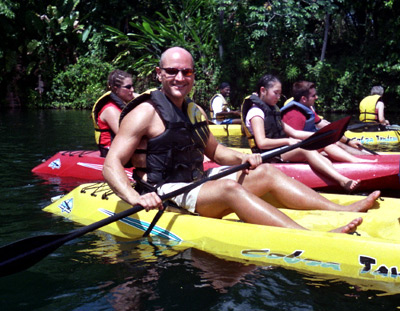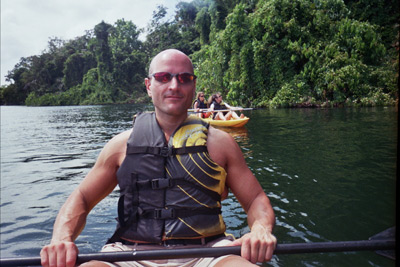 In Panama, I took the Canal tour. We went to the Locke's, then did a kayak trip around a very large man made lake. I'm told it was the largest man made lake until something like 1934 or so when it got topped by another in the US.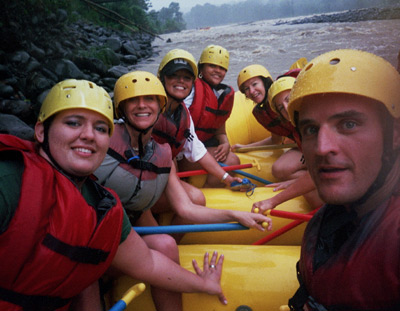 In Costa Rica, we did the Whitewater rafting trip. Lots of fun. Whitewater rafting is a good time. I always seem to get the front of the boat, my favorite place. I never ask for it, cause I would be willing to let anyone else have it if they want, but they never seem to, so I always get what I want. Cool. Saw a wild monkee and some Sloths.
In Belize I spent two hours on a bus to get to the ancient Mayan city of
Xunantunich
. I've wanted to go there for awhile, so I split company with the nurses for the day (they went to a tiny little island to soak up some Belizian sun) and took in the tour. We left the site, took a 10 minute ride and then had some lunch at this little Bed and Breakfast type place. Very cool. Good food too. We barely made it back to the port for the last tender boats back to the ship which was anchored 5 miles off shore. There was a lot of stuff I wanted to do in Belize. It was the hardest for me to make a choice. Some of the best reefs in the world are here and although yet certified to dive, I would have loved to go snorkeling. There's just something mystical about the Mayans though, and the desire to see this bit of the past was overwhelming. Much like my desire to go to Machu Pichu in Peru. I will go back to Belize, and probably sooner rather than later. I just spoke with my buddy Jim and he's just returned from Cancun. They ditched the tourist stuff and rented a jeep to drive around. They were a very short way from Belize which got me thinking of doing the exact same thing. Fly to Cancun, hang out on the beaches, drive down to Belize and Costa Rica. Ya.
what does this post have to do with weight management? Nothing. Except to inspire someone to know that it's a much better life being in shape and in control of your body so that you can enjoy life to the fullest. Whether it be by yourself, with your spouse or your family. You deserve to be the best you can be.