Healthy Meals - Recipes and Cookbook
I'm a busy guy and I generally follow the same eating plan day in day out. I have my favorite recipes that I make based on my health, fitness and nutrition plan, but I like a good recipe.
I recently found a great website offered By Erin Rogers over at
Health-E-Meals.com
. Erin's a stay at home mom who has a really great cookbook filled with recpies that are quick and convenient. She (and I agree) says that being able to switch from a fast food diet for convenience to these healthy meals provide not only great tasting nutrition, but also provides a great role model for your children or grandchildren. They'll see that you can easily prepare good food and do it quickly, be healthier, happier and have more time in your day.

Erin's Recipe Membership Website
Imagine... eating delicious healthy meals and snacks, easily incorporating fitness and motivation into your daily life, being a fit and active role model for your children...
Doesn't that sound like a great way to live your life?
Well, all you need are the right resources..
and I've got them for you!
Inside my Member's Area, you'll find....


Simple time-saving tips, side-dish suggestions AND complete nutritional information for EVERY recipe on my site


Practical tips & articles in an easy-to-read, concise format


Every piece of information will help simplify and streamline your life...so you're free to focus on your most-pressing priorities.


Instead of searching through cookbooks, magazine, fitness books and more trying to come up with just the right tools to fit into your busy life, you can now have it all inside a new website package called
Health-E-Meals.com
Click here to visit her recipe website
101 Healthy Meals Cookbook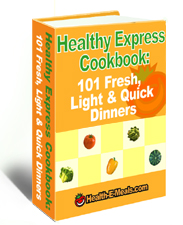 Healthy Express Cookbook: 101 Fresh, Light & Quick Dinners
It's perfect for busy parents, singles and even retirees looking to save some time each day and still eat healthy meals! And now as a Healthy Express Affiliate, you can not only make this useful resource available to your visitors, but also create a terrific revenue stream for you.
This e-cookbook contains 101 recipes for quick and easy dinners - most can be
prepared in less than 30 minutes!
Each recipe comes with several useful features:


Time-saving tips


Nutritional information per serving


Estimated prep and cooking times


Suggested healthy side dishes


Description/comments


Click here to purchase her 101 recipe cookbook
Erin has a free 'Dinners on the Double' newsletter and offers a
50 healthy snack ideas
bonus report for joining.
Go visit her website
and subscribe to her newsleter.
There's this one recipe I read about a feta burger. I started salivating as soon as I read it. She suggests replacing the beef with ground turkey and that works for me.