The #1 best thing about burning fat
The best thing about burning fat and becoming leaner is you guessed it, looking and feeling better. That's pretty obvious I think. There's also the undeniable assumption that you simply have more self confidence and a better feeling of self esteem from getting thinner and better looking.
There's the health aspect of it too. Reducing your risk of heart disease, lowering your cholesterol, your blood pressure and all the positive endorphins from feeling better about yourself all come from getting healthier.
The second best thing about loosing weight
The next best thing is….. shopping!!!! You've got to love that! My clothes don't fit anymore, my shirts are all too big and my pants are falling off me. I have a tailor next door to me and I go in there and get two or three new holes punched in my belt so that I can prepare for the next few weeks in advance. I have to go get new clothes including new underwear very shortly, but I'm going to put it off for just a few more weeks before I go on a Caribbean cruise.
I was in California two years ago in February for a convention. It was a fun convention which started in Long Beach and then went to San Diego by bus, did the zoo there and the wild animal park place. Then we bussed back to LA and went to Universal Studio theme park.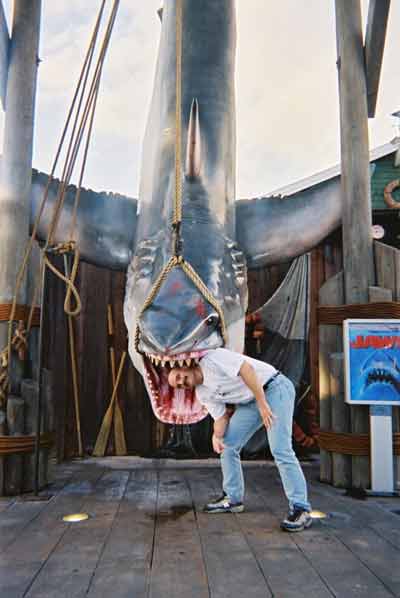 Me with my head in the Universal Studios Jaws Robot
I was always the last person to get on the bus that was assigned to me and it became this recurring joke that they were going to send out a search party for me. I was just having fun and pushing the time limit to the second, give me a break.. geesh. Anyway, at Universal Studios, I visited the Hard Rock Café and wanted to get something, so I got some boxers with the Hard Rock logo on them. When I got back on the bus, I was asked "what the heck were you doing?" and I told them that I went to
buy some underwear. I got them out and showed them all. Well….. !!! there were a few older ladies that though it just wasn't appropriate that I show them my underwear. I wasn't wearing them first of all, and secondly, it's not like nobody wears or buys underwear! Geesh. Relax.
There are a lot of other things people just don't consider when entering into a fat loss program like Burn the Fat, Feed the Muscle so I want to list a few things that I've been thinking about over the past few days in regards to this.


Laundry - With doing all the extra cardio along with weight training, I'm finding that I have to wash clothes a lot more often. I only have a limited amount of assigned "workout" clothes and I am going through them faster than before so have to wash more often.



Cooking - Preparing so much food takes time and if you don't have a system, it may seem like you're always cooking. I prepare enough food for a few days in advance by spending some time in the evening cooking a bunch of chicken and rice. If I know I'm going to be out all day the next day, I prepare my meals in advance so that I can just pack it into a cooler the next morning and I'm safely staying within my planned caloric needs for the day.



Tupperware - I'm noticing that I have to have more Tupperware not only to store the prepared food, but to pack it along. Baggies too. Ziplock baggies of various sizes to hold my veggies and wraps



Math - I hated math in high school and now I'm having to calculate my day's food broken down into the six meals per day that I need. I have to calculate my post workout meal first and then plan the rest of the meals around what's left for protein, carbs and fats. It's well worth the effort though and now I have a system for that too. Once I've found the exact calories that I need for me right now, I'm simply creating a day's meal plan and then keeping it in a binder. When that specific day rolls around again, I just bring out that day's meal plan and go from there. There's a lot to be said for eating the same thing over and over.
I vary it, but still based on the days' plan. I have a few sets of these now because re-feed days are different. I have Low Carb days (LCD) and Very Low Carb Days (VLCD) and then re-feed days. Learn all about this and how it can maximize your fat loss success by getting Burn the Fat, Feed the Muscle.


"every well designed program requires a plan and sufficient time to implement"
You have to have a plan of action.
You have to be truly committed to your goals to create and follow a successful program. If you're wanting to get results, then you have to be prepared to put in the time and effort.
I'll tell you now, this is really working for me. I got five of the best tools out of this program and I'm applying them to my lifestyle. This has to become a way of life, a lifestyle, to be successful.
The proof is in the pudding as it were and it seems to be working for me.