My Interview on Become Your Best and FREE CD offer
I was interviewed on Jeremy Likness' weekly coaching call,
Become Your Best
on Monday December 20th.
Jeremy does a
weekly Seminars and Coaching Call
which he offers for free. Guests include personal trainers, nutritionists, coaches, inspirational speakers and ahletes.
Jeremy sent out this note:
You deserve to listen to this AWESOME interview with
Rob of "formerfatguy.com" - he started out at 475 pounds,
and lost nearly 300 of them! We spent almost an hour
together discussing the major changes in his life, as well
as his philosophy of living healthy.

The call is available for you to listen to online at:

http://www.become-your-best.com/

It is well worth the time you will invest in listening to
it!

Your partner in health,

Jeremy Likness
CEO, Natural Physiques

The interview with myself is archived on his website
become your best
for you to listen to. I invite you to surf over and have a listen.
Bookmark the site, go back, listen, learn, be motivated, and apply what you learn. Sign up to be alerted to the upcoming free inspirational and coaching calls.
Jeremy has an awesome collection of tools for you to begin your journey to become the person you want to be. His book, STOP Losing Faith and Quickly and Easily START Losing Fat is a great read and a way to educate yourself about weight management. See the offer below:
Lose Fat, Not Faith! E-book
"At Last! For Those Feeling Fat, Miserable, and Unhealthy. Conquer Your Cravings, Blow Away Your Binges, and Receive Over $450 in FREE Bonus Gifts! Former Obese Couch Potato and Emotional Eater Who Lost Over 65 Pounds of Fat Shares Secrets of Success With YOU.
What Will YOUR After Picture Look Like?"
Jeremy is CRAZY..
he has a limited time special for a
free CD
too...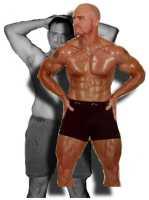 STOP Losing Faith and Quickly and Easily START Losing Fat!
FREE CD
(Over 60 Minutes Long) By Internationally-Selling Author and Health Coach Jeremy Likness Reveals Little-Known Secrets to Overcome Self-Sabotage, Battle Binges and Start Losing Fat Within 14 Days Guaranteed!
Also ... Receive Over $200 in FREE Gifts! Includes an Instant Download of the Secrets of Fat Loss (Become the Journey) Audio Collection ($14.97 value), the Hour-Long "Zen of Fat Loss (Threedom)" Audio Collection ($14.97 value), the 100-minute Healthy for the Holidays Audio Seminar ($27.00 value), the Lose Fat, Not Faith e-zine ($147 value) and Jeremy's 35-page "The Courage to Be Fit" Special Report! ($35.00 value)
Listen to Jeremy speak about the emotion that holds most people back from losing the fat and living with the lean physique you deserve (this is Track #5).
claim your FREE CD while supplies last ... learn more about the
Lose Fat, Not Faith CD Offer!
Look, I've checked this out.. this is a
Free CD
with lots of bonus's. Jeremy has a lot to share.. go have a look!