Achieving Goals Through Personal Training
I was interviewed after the Fitness Boot Camp for my clubs magazine Club Life. Here's the text of the article. I'll post a full page scan of the article when I can get to a scanner.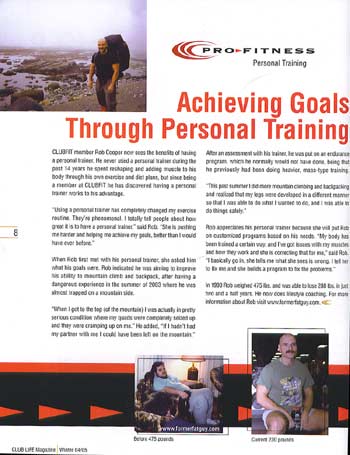 CLUBFIT member Rob Cooper now sees the benefits of having a personal trainer. He never used a personal trainer during the past 14 years he spent reshaping and adding muscle to his body through h is own exercise and diet plans, but since being a member at CLUBFIT he has discovered having a personal trainer works to his advantage.
"Using a personal trainer has completely change my exercise routine. They're phenomenal. I totally tell people about how great it is to have a personal trainer. She is pushing me harder and helping me achieve my goals, better than I would have ever before."
When Rob first met with his personal trainer, she asked him what his goals were. Rob indicated he was aiming to improve his ability to mountain climb and backpack, after having a dangerous experience in the summer of 2003 where he was almost trapped on a mountain side.
"When I got to the top (of the mountain) I was actually in pretty serious condition where my quads were completely seized up and they were cramping up on me. If I hadn't had my partner with me I could have been left on the mountain."
After an assessment with his trainer ,he was put on an endurance program, which he normally would not have done, being that he previously had been doing heavier, mass-type training.
"This past summer I did more mountain climbing and backpacking and realized that my legs were developed in a different manner so that I was able to do what I wanted to do, and I was able to do things safely."
Rob appreciates his personal trainer because she will put Rob on customized programs based on his needs.
"My body has been trained a certain way, and I've got issues with my muscles and how they work and she is correcting that for me. I basically go in and she tells me what she sees is wrong. I tell her to fix me and she builds a program to fix the problems."
In 1990 Rob weighed 475 pounds and was able to lose 288 pounds in just two and a half years. He now does lifestyle coaching. For more info about Rob, visit www.formerfatguy.com