West Coast Trail and Loss of Body Fat
First time I was ever that close to a bear without a car door being between me and it.
I just got back from doing the West Coast Trail last week. What an amazing experience. I'm so glad I did it. I've wanted to do it ever since I started hiking and I definatly do it again. Methinks I'll do it every other year or so or maybe every third year as I have other hiking trips planned that I want to do too.
I started my trip with Wanda P. from Salmon Arm. She and I have known each other for quite a few years now and when my original hiking partners jammed out on me, I invited her and another chick, Denean S. from Vancouver. Denean was involved in a freak hammock injury a month before we left (no, alcohol was not involved) so she had to opt out. Wanda ended up with some knee issues early on and opted out at Nitinat Narrows so I hooked up with some other hikers from Toronto, Switzerland and Germany for the rest of the hike. Eight days in total, of which seven were actual hiking. I spent one day just lounging around the beach at the last campsite, Thrasher Cove before doing the last six clicks.
So, the bear. Yes, just as Wanda, myself and three other hikers crossed Nitinat Narrows to Carl's dock (the ferry operator there), and were celebrating Wanda's birthday while warming ourselves by the stove, a full grown black bear wandered down the trail that we were about to go up. We were stunned. They sent the dog out to scare the bear away, but it came back shortly thereafter. We spent about two minutes just watching the bear. We didn't get a picture the first time he was there as we just wanted to appreciate the moment without taking our eyes off it. I was ready the second time and snapped a photo just as he headed up the trail. See my West Coast Trail pictures and journal elsewhere on this site for the full details.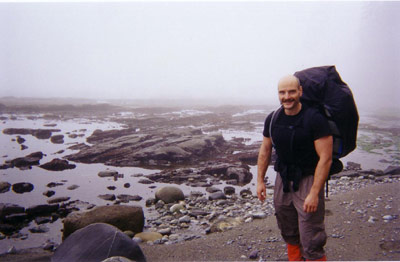 This is a shot of me
hiking along the beach of the West Coast Trail
on the second day I believe. We had the options in some places to either hike the beach or hike inland. Some places we had no choice and some places beach hiking was dependant on the tide. We were given tide tables which showed high and low tides for different times of the day and had to plan our trip accordingly.
I weighed myself before I left and when I returned and although I ate about 5000 or more calories a day, I dropped 2.5% body fat during the 10 days I was away. You gotta like that!
Here's my
West Coast Trail
pictures and trip journal.
here are a couple of links to other WCT trip journals:
Mudhounds do the West Coast Trail
I Need to know West Coast Trail