After - at 187 pounds
This was me at my lowest weight, taken in 1993 when I was 187 pounds. I didn't feel anorexic at the time, but I defiantly was gaunt and lacked all muscle tone. I have since put on 30 56 or so pounds of muscle.
I was 187 with about 30% body fat (my best guess) which put me at 131 Lean Body Mass. As of Dec 31, 2004, I am 186lbs Lean Body Mass with a goal of reaching 216 LBM at 6% Body fat which = weight of 230lbs. Watch my progress on my Burn the Fat, Feed the Muscle review page.
Make sure you check out my current pictures from time to time.
Photographer: Randy Fritz
Uncle& Aunts 40th Anniversary
My Uncle Charlie and Aunt Irene had their 40th anniversary in 1995 and my whole family got together. I really like this picture, but everyone says that it does not look like me. What can I say? Don't you love that tie? My Pink Panther tie!
Photographer: Cori Adel
Alberta Success Story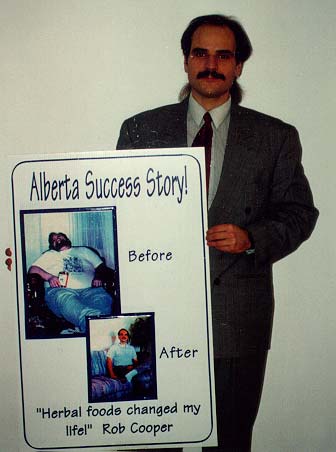 Due to my involvement with my Whole Food Nutritional Concentrate company, we took this picture to keep everyone up to date as to how I was doing. Notice the length of the hair in this picture.
Photographer: Randy Fritz
Self Portrait
Taken in 1996 just after I decided that long hair was out and cut it all off. I thought that going all the way was the only choice. You can tell the difference in hair from the Alberta Success photo above. I also grew a goutee.
Photographer: Me
Make sure you check out my current pictures from time to time.