January 2006 - Gates Pass Sunset
After taking my Accelerated Free Fall Program (AFF) in the spring of 2005 and having a grand total of 15 jumps (count em, fifteen!!!), I had taken the entire summer off from skydiving in order to travel around North America working with Peak Potentials at Mind of Steel - Heart of Gold, Warrior Camp, Wizard and Millionaire Mind Intensive programs so was unable to jump anymore. I also went to Los Angeles for our annual Sunrider convention, toured the Okanogan with my new girl, visited Tofino on Vancouver Islands' west coast, visited the Bayou in Louisiana and then ended up back in LA for some events just before Christmas.
This picture above is from my January skydive holiday in Eloy Arizona. My skydive club from Edmonton and another club from Alaska did what we call the "Arizona Invasion", an annual event. About 100 jumpers joined the people at the Skydive Arizona skydive resort for two weeks of jumping. The drop zone there can handle over 700 jumps a day.
I arrived on Tuesday evening, January 10th, and began jumping on Wednesday morning. I arrived with 15 jumps, having just completed my AFF program in 2005 and left Arizona two weeks later with an additional 25 jumps (and one reserve ride) under my belt. Grand total now of 40 jumps to my name. We jumped from a twin otter capable of getting up to 15,000 feet. Most jumps were from between 13,500 and 14,500 feet, but that one jump, we crept up to 15,000. On the first weekend I spent in Tucson, the group was on a high altitude jump from 21,000 feet.
After three days of jumping, my girl arrived in Tucson to visit her friends Christy and Todd and I joined them for the weekend. We got out to do a hike, visited a desert museum, and I was able to finally cross one item off my life goal list – to see and touch an SR-71 Blackbird. There was one on display at the Pima Air Museum and below, you'll see a picture of me touching the tail of it. I have a great shot of me touching the nose, but it's on an SD card of Todd's that's currently MIA. Will post that picture once it's in my hot little hands. Hey, while I've got your attention, help me get those pictures back into Todd's hands. It would be really great if his flash card with the pictures were to make their way back to his hands. Right now, the flash card is safe, but we don't know where it is. Just quietly say to yourself and with intention, "Todd's flash card is finding it's way back to him", and visualize the card being returned safe and sound. Thanks for that moment of your time.
Todd is the head of a fire spinning group in Tucson and after spending the first Friday night with him learning some fire eating and watching them spin, I arranged for the group Elemental Artistry to come out to the drop zone and put on a fire spinning performance. We did that the following Friday night and over 80 skydivers showed up to watch and learn to eat fire.
Before I get into too much story, lets begin with some pics from the summer of 2005 at the Sunrider Convention and then from my trip to Louisiana. The next two photos are from the summer and fall of 2005, all the rest are from January 2006.
Sunrider Convention Segway Rentals
This is Ashley Pendree, John and myself in Long Beach in July when we rented Segway's for the afternoon. Lots of fun scooting them around the boardwalks and over the bridge to where the "Queen E 2" ship / hotel is moored. Photo taken July 2005.
Shreveport Louisiana Elvis Statue
This is me in Shreveport Louisiana in front of the hall where Elvis did his first ever performance in Louisiana. This was taken in November and as you can see, I'm desperatly needing a tan!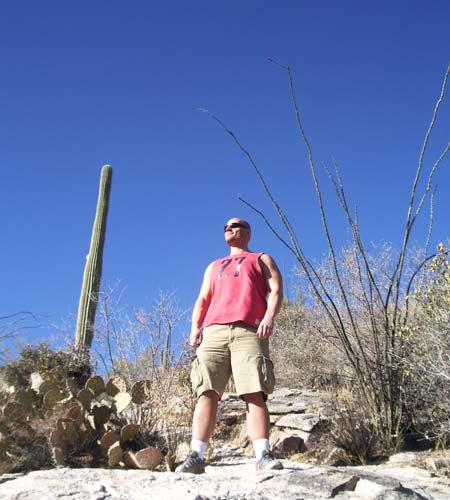 Trail Hiking in Arizona
Now back to my January Skydive adventure, this is me on a hike in the desert outside of Tucson one afternoon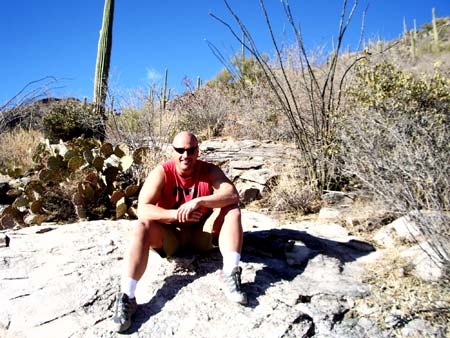 More Trail Hiking
Another picture at the same place. You'll notice me wearing my new "gatorz" sunglasses which I had been trying to find for the past 8 months in Canada. I was finally able to get them at the dropzone and yes, I jump in them!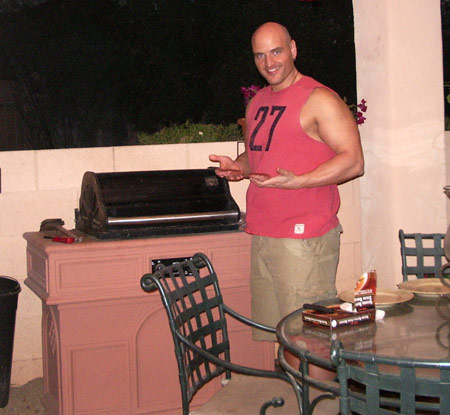 Bison Burger Bar-B-Que
This is me in Christy and Todd's backyard about to cook up some Bison Burgers. "Raw Meat in My Hands", just the way I like it.
Desert Museum Pickle
While at the desert museum, I was treated to a giant pickle (it wasn't that good). My homeopathic doctor did some tests on me in December and found that I was off the scale, too high in alkalinity and needs to bring me down a few notches.
How fricken hard is it to be TOO alkaline? Well, I did it. Being too alkaline can have it's problems too, namely not being able to break down and digest certain minerals and vitamins.
Her advice to me was to have a pickle with every meal, to eat sauerkraut and to put lemon and lime on anything that I could.
I love pickles, sauerkraut, and lemons / limes, so not a problem. Oh, she also told me that I'm anabolic and I'm a fat burner so to go ahead and eat more EFA's.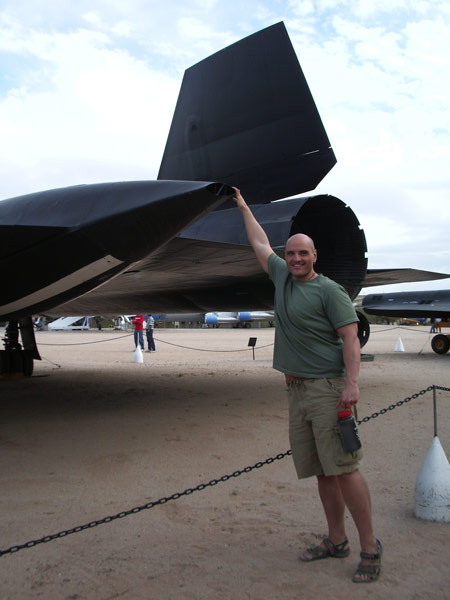 SR-71 Blackbird
This is me touching the tail of the SR-71 blackbird, the fastest plane ever made. Designed to fly faster than any missile the Russians could every fire at it. Flies at over three times the speed of sound and set a speed record before retirement by flying from the East coast of the US to the west in 68 minutes (and that included three in-air refueling). It has been on my life list of goals (things to do before I die) for some time.
Hey, I totally believe in the power of intention. Take another moment right now and just visualize the picture card containing Todd's pictures returning safely to his hands. Say to yourself quietly, "Todd's picture card is making its way back to his posession". Thanks, I appreciate it.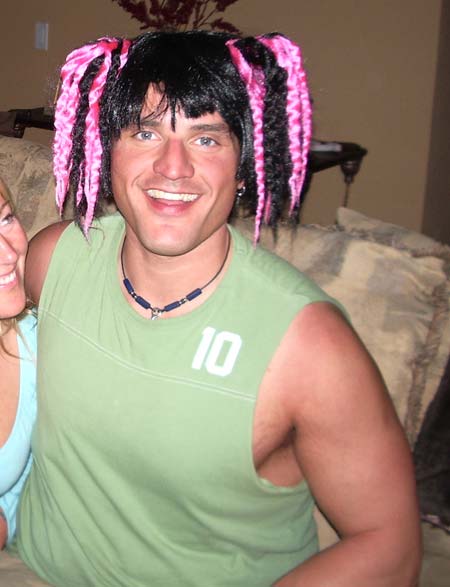 Me With Pig-Tails
Christy bought a new wig for Burning Man and I tried it on.
Todd with Pig-Tails
Todd tried it on too. See the picture of Todd spitting fire below. You'd never guess it was the same guy!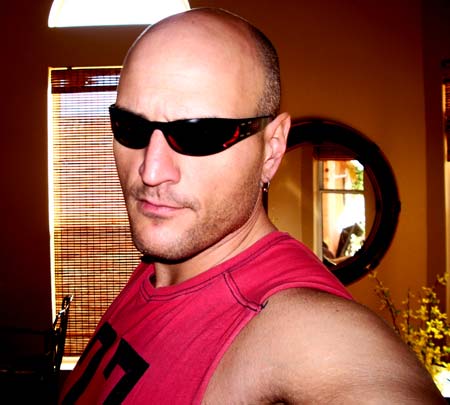 My New Gatorz Sunglasses
I was checking out my new Gatorz sunglasses to see what I looked like in them. Self portrait.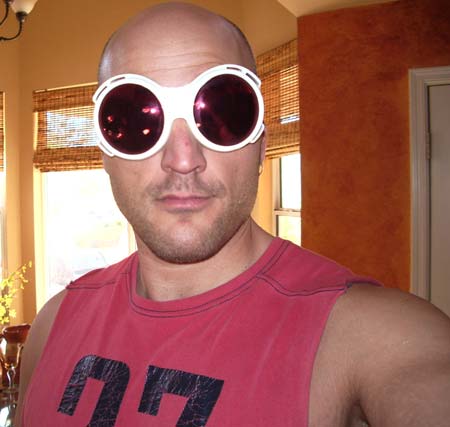 Willy Wonka Goggles
Todd bought some Willy Wonka goggles for Burning man. We were wondering if it would be possible to skydive in them. Found out it is possible.
John Scott, My Skydive Coach
This is John Scott, my coach for a bunch of my skydive jumps. I have to practice my relative work (RW) for my RW endorsement. He jumped with me as my coach. Relative Work means flying with someone else, relative to them. I am having trouble with my slow fall. Falling fast is easy being 240 pounds, but slowing down on purpose has proven to need some work on my part. I have to be able to do it in order to pass my RW endorsement test.
Looking Up
One of the skydivers looking up watching for chutes in front of the re-packing area
Nick
Nick from Edmonton's Eden North Skydive School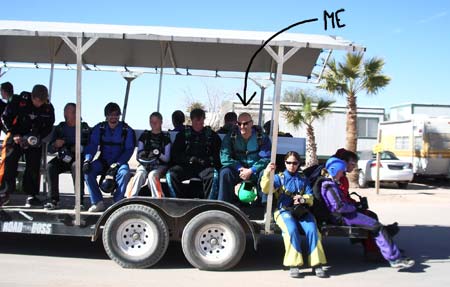 Skydive Trolly
The Trolly that transports us from our manifest area to the planes.
Troy
Troy from Edmonton. Troy had a reserve ride on his 68th jump and the fact that he had to use both hands to loosen his reserve handle proved to be the info I needed to hear when I had to do the same thing. Thanks for the tip Troy.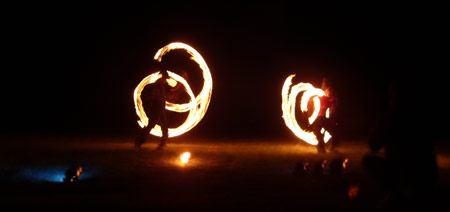 Fire Spin
A couple of the performers doing some fire spinning on the Friday before we left.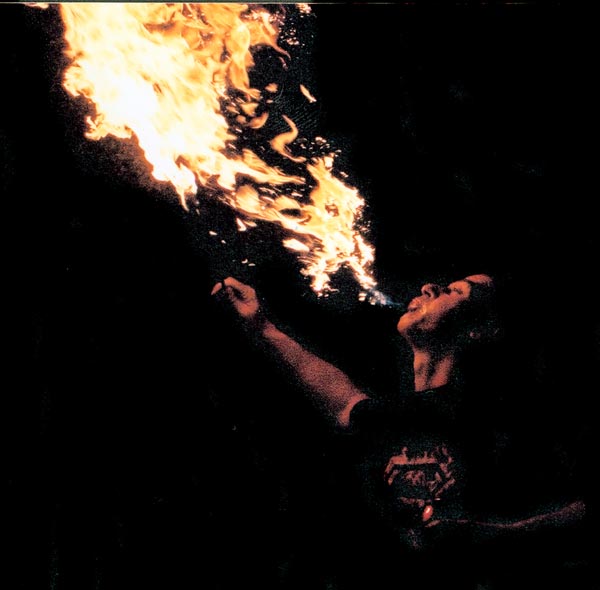 Todd Doing Fire Spitting
This is Todd doing fire spitting. Yes, this is the same guy wearing the wig with pink pig-tails above. His group Elemental Artistry performs for weddings, groups, birthday parties, grand openings etc. You can contact them, and picture courtesy of www.elemental-artistry.com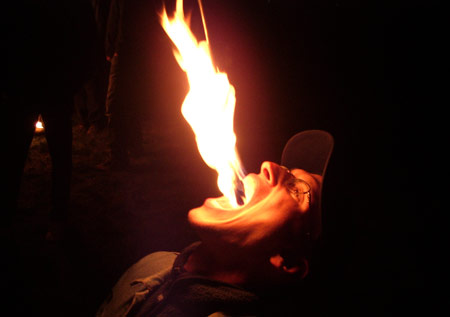 Scott Rutlidge Eating Fire
Scott learning to eat fire after the fire spinning demo.
Arizona Shadow
The first of many future Arizona shadow pictures to be taken. I have fallen in love with the state and have vowed to own a condo in Tucson. The weather, the traffic, the sky during the day and during the nigh, the skyline all agree with me!

Take care everyone!, eat well, be well! Blue Skies!

<% 'this variable needs to be set for this one page, mostrecent 'in order for the archive include to show proper links archivepath="Archives/" %>

<% 'remove the archives/ in the line above when this file becomes an archive %>