Top 10 Ways to Lower Your Cholesterol Without Drugs
By Rob Cooper
Mention high blood pressure, and most people consider the possibility of heart attack or stroke. Talk about high cholesterol, and many individuals brush the condition aside as a problem for another day. Actually, high cholesterol is equally deadly. Therefore, when a doctor suggests monitoring cholesterol, take a proactive approach. Begin implementing 10 ways to lower your cholesterol without drugs:
1. Know where you stand
Since cardiovascular disease is considered the number one killer of adults over the age of twenty, and high cholesterol is a definite contributor, individuals should track cholesterol levels. If cholesterol levels are 200 mg/dl or below, a doctor will probably suggest rechecking every five years. However, higher numbers suggest trouble, especially if the condition is hereditary. For instance, people with a level of 240, or higher, are twice as likely to suffer a heart attack. Therefore, if cholesterol numbers are good today, do not assume the problem will never occur. Be proactive, and check the numbers.
2. Learn all you can
Diagnosed with high cholesterol, many people will accept the doctor's prescription, and go about daily living with a pill a day. No way! For most people, high cholesterol did not magically appear. Smoking and eating habits are only two lifestyle changes necessary for lowering the numbers. For instance, a person fatally allergic to peanut butter will carefully read labels and avoid the spread at all costs. Similarly, high cholesterol means the artery walls are coated with too much fat. Yet people take medicine and maintain the same diet. The practice does not make sense. Be Proactive, and learn all you can.
3. Get rid of those extra pounds
As with any heart healthy treatment, a person needs to consider the stress on the body from carrying extra weight. Metabolism is skewed, and the body will probably have a more difficult time processing the excess fat, even with prescription medication. Be proactive, and reduce the risk of heart attack and stroke by getting rid of extra pounds.
4. Lace up your walking shoes
Doctors suggest the loss of 5-10 extra pounds may have a significant influence on cholesterol levels. However, the same physicians will also link diet and exercises to help get rid of unwanted weight. People avoid exercise, for one reason or another. However, a membership in a costly gym is not necessary. In addition to eating healthy choices, simply add a walk to the daily routine. Enlist a friend or a family member and make a permanent lifestyle change. Be proactive, and invest in some good walking shoes.
5. The good fats
Unbeknownst to many, not all fats are associated with elevated cholesterol. In fact, some fats will actually help lower bad cholesterol, while increasing good cholesterol. For instance, animal fats from red meat are generally considered taboo. However, fish and peanut butter, in moderation, may have the opposite effect. So, be proactive. Do a little homework, and learn about the good fats.
6. Fiber
Unless an individual has grown up under a rock, he/she knows a healthy diet contains plenty of fiber. A cholesterol lowering diet is no different. Foods like fruits, vegetables, and legumes are high in fiber. The fiber will help a person feel fuller, eat less, and absorb excess fat, in addition to the other physical benefits. Be proactive, and begin eating the daily requirements of fiber rich foods.
7. Multivitamin
As with any diet, a good multivitamin will ensure an individual is receiving all the nutrients necessary for healthy living. Read the labels, and find a complete vitamin. Be proactive, and take a daily multivitamin.
8. Explore your treatment options
Not all high cholesterol treatments work for all people. While a doctor is well educated, he/she also knows patients have a variety of options. Therefore, find the option compatible with lifestyle and other health concerns. No cholesterol treatment will be beneficial, if the patient cannot change his/her lifestyle accordingly. Be proactive, and know the treatment options.
9. Short-circuit stress
Amazingly, stress also contributes to the affects of high cholesterol. Uptight people are unlikely to maintain a healthy lifestyle change. Plus, blood vessels constrict, accentuating the problem with high cholesterol. Life is too short. Do not waste a day risking the negative health affects of stress. Be proactive, and make the necessary lifestyle changes to lower stress.
10. Commitment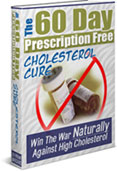 Finally, be committed to good health. Diet and exercise, to lower bad cholesterol, can only be effective if maintained. The hard work to lower cholesterol levels will be worthless, if an individual returns to his/her unhealthy habits. Be proactive. Commit to maintaining a healthy lifestyle, and follow these Top 10 ways to lower your cholesterol.
About The Author:
Rob Cooper writes about Natural Weight Loss from his office in Edmonton Alberta Canada. Read more about Natural health, High Cholesterol and Lowering Cholesterol Levels.
Article usage: You may reprint this article on your website or blog as long as you include the resource box (the About The Author section).
Lower Cholesterol Naturally, Eliminate Harmful Prescription Drugs, And Maintain A Healthy, Stress-Free Life. A Simple But Incredibly Powerful Plan You Can Begin Using Today To Achieve Optimum Cholesterol Health!"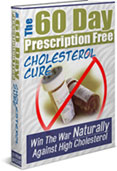 60 Day prescription Free Cholesterol Cure
Is jam packed with 123 pages that will arm you with the defense you need to win the war against high cholesterol! Part of what you'll learn includes:
How to safely lower your high cholesterol without the use of prescription drugs!
The substance that binds with cholesterol in the intestine and ushers it out of your body!
The inexpensive nutritional supplement that dissolves cholesterol like artery detergent and works just like prescription meds but WITHOUT the unwanted side effects!
The 60 day plan to prescription free cholesterol health!
Much, much more
What Makes The 60 Day Prescription Free Cholesterol Cure So Exciting And Powerful Is That it Gives You The Power To...
Lower cholesterol naturally. This program will provide you with the knowledge you need to achieve optimum cholesterol health WITHOUT statin drugs.
Maintain healthy cholesterol levels. Not only is it important to achieve optimum cholesterol health but it's also equally as important to maintain it. The 60 Day Prescription Free Cholesterol Cure will show you exactly how to do just that.
Visit
60 Day Prescription Free Cholesterol Cure