Taken in 1986 at 320 pounds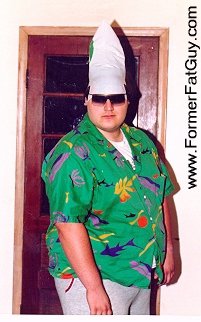 It was not Halloween, and I was not going to a party, I was just really drunk when these pictures were taken. The photo you see here with me and the guitar was a choice that JimmyRig of LA was going to use for an album cover. They asked my permission to use it, but alas they didn't.
Photographer: Mitch Spearman
(He was really drunk too)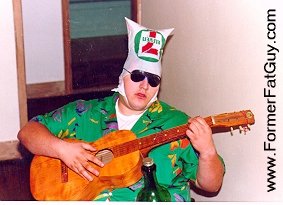 Houseboating 1991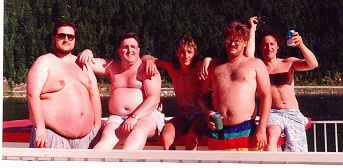 This photo was taken in British Columbia Canada while a large group of us were house boating. By this time, I had lost 100 lbs, and was committed to succeeding in my weight loss goals. I decided to forego the embarrassment and document history in the making. A lot of alcohol helped too!
Mom & Dads 40th Anniversary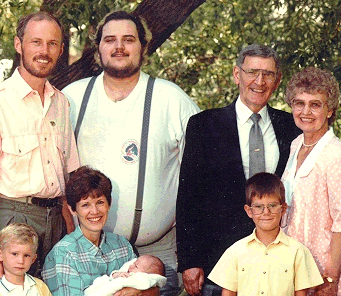 This was taken in the summer of 1989 in Saskatoon, SK when I was almost at my biggest. It was my parent's 40th wedding anniversary and my nephew Matthew had just been born. I had just smoked a spliff while waiting for everyone to show up for the shoot. At a get together afterwards, one of my nephews asked me how much I weighed and was scolded by his mother. I then heard my sister reiterate to them that they were not supposed to ask me about my weight. Interesting how our families adjusts their lives to our weight isn't it. There is also a full version of this picture (900K) available for those of you who are bandwidth blessed.
More Pictures:
Fat Pics Page 2 | Fat Pics Page 3