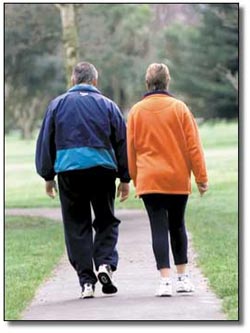 Weight Loss Exercise Information
Muscle is the body's metabolic engine. Muscle is heavier than fat by two times and is very needy of calories. That is to say that for every pound of muscle you carry, your body needs 50 calories a day to sustain it. Its why weight loss exercise is so important for your health. Muscle looks better than fat. A more muscular person has more fun, is less prone to injury.
Now, that said, what is stopping you from doing something about it? The question I get asked most is where do I start. I have an entire section on building muscle so I won't go into much detail about that here. Visit the muscle building section of this website to learn specifics. What I would like impress upon you here is this. The process of weight loss exercise uses calories while you do it. It also has a secondary benefit of turning up your metabolic engine for the rest of the day. You get to burn calories twice! Then the benefit of carrying that extra muscle around all day requires calories to sustain it so the stronger and better looking you become also requires either more food, or to use calories stored on your person. If your caloric intake does not increase, then your body starts to break down fat. This even happens while you sleep. Now, the process of building that muscle requires great nutrition. I use the Whole Food Concentrates in order to obtain proper nutrition to rebuild and for the energy requirements for my weight loss exercise. I have been nothing but impressed with it.
Natural Alternatives to Sweat
Why sweat like a stuck pig exercising like a maniac when you can achieve similar results in 10-15 minutes a day with five simple exercises developed by Tibetan monks? Results 100% guaranteed!
The Five Tibetan Rites
When I was big, I knew I had to start somewhere with my weight loss exercise routine, but I was really big!, you know? I remember when I started doing pushups, I did them using a set of carpeted stairs and did them incline and I could only do 3 I think before I was covered in sweat. It wasn't until I got down to my lowest at 187 that I switched from drugs to bodybuilding, but I should have started earlier.
I get a lot of comments about weight loss exercise and how important is it really?. People want to know what they can do to get started. I have always recommended at least taking action and getting out the door to do something. I've always said to get the dog and have him/her take you for a walk. Seriously, I looked around after getting a lot of requests for this information. What could anyone, at any age do that would improve their health, fitness and energy levels. It had to be quick, easy and anyone could perform it.
I found the Tibetan Rites book by my old friend Chet Day. I've been subscribed to his crock pot recipe newsletter for years and decided to check out the book so I could offer a recommendation or not.
It's pretty wild, this Supercharge Your Energy with Five Secret Tibetan Rejuvenation Rites eBook that professional health writer Chet Day has been selling for several years. Written way back in 1939 by a guy named Peter Keller, this pdf version of the original book contains the original text as well as some updated annotations.
The Five Rites eBook comes with a 100% money back guarantee, so I'm really happy to point you to this classic in the natural health field. Click here to check out the details.
Here's a report back to Chet from a customer:
Dear Chet:

I purchased the Five Rites from you back in September and did them for a week or so and didn't notice any difference or feel any more energy. Then I got busy with other things and stopped doing them.

In January I read some more of the reports in your newsletter about how the rites were helping people and decided to try them again.

Well, I've been slowly working up with the number of repetitions and I've been doing the rites faithfully six days a week now for about six weeks, and frankly I'm stunned at how much my energy levels have increased, my energy has almost doubled. I'm also sleeping better and not as stressed out as I used to be.

Thanks for continuing to share reports about these exercises because they really do work IF you don't give up on them too soon like I did the first time. Now I'll be doing them for the rest of my life. They really are that good.

Cary Sorenson
Make sure you tell me what you think about it so I can share it with others.
More weight loss exercise tips:
Specific Tips
Update: [Jan 2007] I'm now working on my own weight loss exercise book called Weight Loss Exercise Fundamentals in partnership with my personal trainer. It will be the ultimate weight loss exercise guide for anyone wanting to get started with basic exercise routines either at home or at your local gym. It will be focused on the overweight individual who knows nothing about weight loss exercises and use a overweight model who is also learning the routines. It's a work in production and I have no release date yet, but should be in the fall of 2007. Subscribe to my newsletter for information on the release of this new book.