Boo on her scratcher

Pumpkin sun tanning one afternoon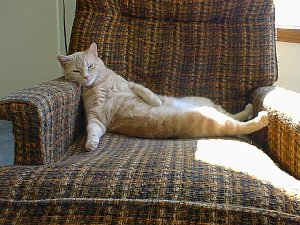 Pumpkin likes to try and get under any papers.
Here she ended up inside "The Computer Paper".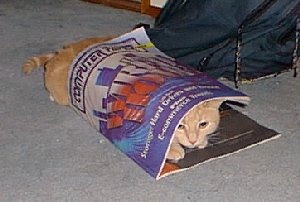 "Pretty Boo"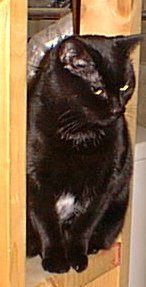 Now is this a cool picture or what?

Pump under the front room drapes.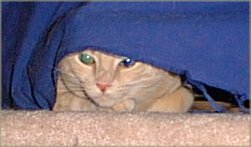 Baby Pump

Boo is the "Respectable, upper class, high society" cat.
It's hard to get any unique photos of her while Pumpkin
is the acrobatic, energetic aerobic champion of the house.
They both get Sunrider added to their cat food.
Dog & Cat Tales

From a lost chapter in the Book of Genesis:

Adam was walking in the garden and cried out to God, "You used to walk with me every day. Now I do not see you anymore. I am lonely here, and it is difficult for me to remember how much you love me."

And God said, "I will create a companion for you who will be with you
forever and who will be a reflection of my love for you, so that you will love me even when you cannot see me. Regardless of how selfish or childish or unlovable you may be, this new companion will accept you as you are and will love you as I do, in spite of yourself."

And God created a new animal to be a companion for Adam. And it was
a good animal. And God was pleased. And the new animal was pleased to be with Adam and wagged its tail. And Adam said, "Lord, I have already named all the animals in the kingdom and I cannot think of a name for this new animal."

And God said, "Because I have created this new animal to be a reflection of my love for you, his name will be a reflection of my own name, and you will call him DOG." And Dog lived with Adam and was a companion to him and loved him. And both Man and Dog were very content. And God was pleased.

After a while, it came to pass that Adam's guardian angel came to the Lord and said, "Lord, Adam has become filled with pride. He struts and preens like a peacock and he believes he is worthy of adoration. Dog has indeed taught him that he is loved, but perhaps too well." And the Lord said, "I will create for him a companion who will be with him forever and who will see him as he is. The companion will remind him of his limitations, so he will know that he is not always worthy of adoration."

And God created CAT to be a companion to Adam. And Cat would not obey Adam. And when Adam gazed into Cat's eyes, he was explicitly reminded that he was not the supreme being. And Adam learned humility. And God was very pleased. And Adam was very greatly improved. And Dog was still very happy.

And Cat didn't really give a shit one way or the other.
Help feed the animals
Over ten million animals are abused, neglected or abandoned yearly. You can help each day with a free click!
Visit The Animal Rescue Site at www.theanimalrescuesite.com daily and click the purple button. That simple action gives food to an abandoned or abused animal.
There is no cost to you! Funding for nutritious food is paid by site sponsors and goes to nonprofit animal welfare organizations who use it to feed animals living in their shelters and sanctuaries.
The Animal Rescue Site was launched in July of 2002 and generated 22.9 million bowls of food for animals in its first year, and more than 28 million bowls in 2003! your help, many more animals will benefit in 2004. It all depends on the number of people who visit the site.
Please click at The Animal Rescue Site once a day and forward this email on so more people can help give animals the happy, healthy lives they deserve!