"When the Student is ready,
the teacher will appear..."
A book review of "Burn the Fat, Feed the Muscle" by Rob Cooper, Formerfatguy
Burn the fat, Feed the Muscle is probably the best book I've read in my life. Why would a guy who's already dropped nearly 300 pounds want to buy and read a book about burning fat? Because I believe in constant and never-ending improvement. I've been coaching people for quite a few years and with my success in weight loss and now weight management, you'd think that I knew most everything there was to know about reaching your fat loss goals.
As my personal trainer says "when you have legal problems, you see a lawyer, when you're sick, you see the doctor and when you want to be in the best physical condition based on your goals, you hire a personal trainer". The same can be said for experts in the fat loss field.
As the end of 2004 approaches, I set out some goals for myself. I have hovered around the 12% body fat level for a couple of years now and I figured it was time to push towards 4%. Readers of this website will know that I am very goal driven and action oriented. I takes steps towards my goal no matter how small as long as I'm always moving in the direction of success. Readers will also know about my firm belief in the power of the Universe and it's role in helping one achieve their goals when one firmly commits to them.
My decision to do something about my weight back in 1990 led me to resources that I needed and mentors / coaches that held my hand while I learned some basic health principle's which led to my loss of 288 pounds of fat.
Time to Commit to a new plan
Well it's that time again.
I made the commitment to reach my goal of 4% body fat this year and into my life popped Tom Venuto.
Tom Venuto is a lifetime natural bodybuilder, freelance writer, success coach and author of the #1 best-selling book "Burn the Fat, Feed the Muscle" (BFFM): Fat Burning Secrets of the World's Best Bodybuilders and Fitness Models. Tom has written over 170 articles and has been featured in Ironman Magazine, Natural Bodybuilding, Muscular Development, Muscle-Zine, Olympian's News (in Italian), Exercise for Men and Men's Exercise. Tom's inspiring and informative articles on bodybuilding, weight loss and motivation are featured regularly on dozens of websites worldwide.
Burn the Fat, Feed the Muscle has provided for me the very tools I needed to not only tweak my diet for optimum fat burning, but also to calculate the exact nutrient amounts for my body for my current fat loss goal and then my lean body mass goal of 230 pounds (at 6% BF).
After reading the book, applying the formulas based on my body type and activity levels and Tom's re-affirming my current beliefs about cardiovascular training along with resistance training, I have started a 6 week crash course in "fat blasting".
With my background being primarily health oriented, I was happy to find Burn the Fat, Feed the muscle written with the same message in mind. BFFM is written from not only a health, exercise and food standpoint, but also combines the wisdom of "learning to be your best" through goals and visualization. The wisdom of Tom's coaching comes through in full. I have always believed and coached my own clients about the power of visualization. If you more about how something works and why it works, you can make better informed decisions about your choices in everything you do. This is a very educational book. Very well written (no wonder it's the top selling book on the subject).
Beginning with goal setting, then education on proteins, fats, carbohydrates, body typing, the importance of hydration, exercise and the very key's to my goal I needed: the formula's for exact nutrient amounts and ratios for the reader.
Since the first day after reading Burn the Fat, Feed the Muscle, I've made changes to my routine. For the six weeks I'm on my "fat blasting" program, I am keeping precise records of what I eat and basing my food choices on health and the calculations. I have increased my cardio from 20 minutes a day 3x a week, to 30 minutes a day 7 days a week all H.I.I.T.
I confess that I got stuck in the "I knew that..." trap. Tom has helped me affirm a lot of what I already knew to be true, tweak my diet and my exercise and is available to hold my hand and coach me through the next 6 weeks by being able to go over the book again and again when I need to.
What I was not aware of when I purchased BFFM was the bonus material I would get with it. Recipes, "how to grade your food choices", "Foods that burn fat" and "Foods that turn to fat" are bonus reading. Also, two very important and sometimes key factors, how the mind works in helping us achieve our goals.
Tom, you've outdone yourself on this one. I cant wait until your next project with Jon is available.
Purchase your copy of Burn the Fat, Feed the Muscle from Tom Venuto at www.burnthefat.com
Tom Venuto is also providing 5 bonus books with the purchase of his book Burn The Fat


BONUS #1: Foods That Burn Fat. Many of my clients have told me that this ONE report was worth the price of the entire program. It's easy to see why: In this popular bonus report, you'll learn exactly which foods "burn fat" and speed up your metabolism - without having to cut calories drastically (when you eat these foods, you can actually eat more and still lose fat because these foods have a higher "thermogenic" effect!) This report reveals all the juicy details that most champion bodybuilders and fitness models would rather keep to themselves.
BONUS #2: Foods That Turn To Fat. One of the best ways to learn what you should eat every day on a fat loss diet is to identify which foods you shouldn't eat on a fat loss diet. Then, by a process of elimination, you'll automatically improve your food choices! In the second installment of this bonus series, you'll discover which foods are most likely to turn to unattractive, mushy body fat, including the deadly fat-storing foods that you should almost NEVER eat (not even on "cheat day!)
BONUS #3: The A food B food lecture: How to get good grades on your food choices. Finally! Someone developed a "grading" system to rate your food choices. The average person gets a D "grade" on their nutrition report card! What do you think your grade is? By choosing foods from the A and B list, you're virtually GUARANTEED to look better, feel better and lose more fat. It's as simple as choosing the foods you'll find right here in this report, which you can get for FREE, right now, if you order today.
There are two other bonus's and a SUPER bonus included as well, but you can vist his website for those details.
You are reading the Burn the Fat, Feed the Muscle Review.
Follow My 6 Week Progress Report here
to be measured Thursday morning of every week at my fitness club. Details will be posted once I have the information
Jump down to Week 5 a very successful fat burning week
Day 0: Dec 30, 2004
Body Fat Percentage: 17%

Weight: 224.5 lbs

Lean Body Mass: 186.5 lbs

Body fat: 38 lbs

Total Body Water: 62.7 litres

Neck: 14.7" (36cm)

Shoulders: 50.6" (128.5cm)

Chest: 43.7" (111cm)

Arm Relaxed: 14" (37cm)

Arm Flexed: 15.7" (40cm)

Waist point 1: 35" (89cm)

Waist point 2: 40.5" (103cm)

Thigh: 26" (66cm)

Calf: 16.9" (43cm)
I had just finished a very heavy 2 week workout period and apparently was not eating enough. I was 13% just two weeks prior. According to these numbers, I lost 4 pounds from two weeks prior, but gained 4% bodyfat. In reality, I was catabolic and burned muscle mass instead of fat. This will Never happen again!
Also, just noticed that my assessor had my height off by an inch too short which would make these results skewed to the heavy side of body fat.
You are reading the Burn the Fat, Feed the Muscle Review.
Week 1: Jan 6, 2005
Body Fat Percentage: 12.5% - Tanita Scale, See note below

Weight: 223 lbs - Tanita Scale, see note below

Lean Body Mass: 195 lbs

Body fat: 27.9 lbs

Total Body Water: na

Neck:

Shoulders:

Chest:

Arm Relaxed:

Arm Flexed:

Waist point 1:

Waist point 2:

Thigh:

Calf:
Note:
My Tanita scale on the day 0 that I started this read 14% bf, so as far as I'm concerned, I dropped 1.5% this week. My weight didn't really change much so I built some muscle in there too. Very cool.
Turns out the girl who does my weekly assessment is only available every other week at the early time of 6:00 am that I want, so I'll be using a variety of sources to measure my body fat.
Tanita Body fat scale I have in my home
Bioanalysis at my fitness club (weight, arm length, height and bio-impedance all used in result)
My Personal Trainer's calipers
So to summarize, every other week, the results will be from the same sources. Week 1 and 3 and 5 will all be from the Tanita scale, followed up the next day by calipers. Weeks 0, 2, 4 and 6 will be from the bio impedance machine. Then when I get closer to my goal of 6%, I'll do a dunk tank test to get the most accurate reading.
Summary of the week. Always been proactive in having my meals with me, prepared ahead of time, now I've just tweaked it by weighing everything. Cardio has increased from 20 min HIIT 3x a week, to 30 min HIIT 7x a week plus double cardio days on my off days from the gym. I've gone from 1 hour of cardio per week to 4.5 hours a week. Wow, I quadrupled my fat loss.
During my interview with Clarence Bass, he talked about the Tanita scale and was the reason I purchased mine. Here's a clip from that interview...
Click here to hear Clarence Talk about the Tanita Scale (31 seconds)
Clarence Bass wrote for Muscle and Fitness magazine for over 16 years and has been training for over 50. He's been able to keep his body fat at or below 3% on a regular basis so I'm apt to trust his judgement.
Week 2: Jan 13, 2005
Body Fat Percentage: 12.5% -

no change

- Tanita Scale, See note below

Weight: 224 lbs - Tanita Scale, see note below

Lean Body Mass: 196 lbs -

Increase of 1 pound

Body fat: 28 lbs

Total Body Water: na

Neck: 14.2" (36cm)

Shoulders: 49.25" (125cm)

Chest: 43.3" (110cm)

Arm Relaxed: 13.8" (35cm)

Arm Flexed: 15.4" (39cm)

Waist point 1: 35" (89cm)

Waist point 2: 37.8" (96cm)

Thigh: 24.8" (63cm)

Calf: 17.3" (44cm)
Note:
I am only using my trainer to measure me from now on. She has been measuring me for over a year and quite frankly, I don't trust the girl doing assessments at my club (long story). Also, due to scheduling conflicts with the assessment girl at my club, I will only be using the Tanita scale from now on. It has always been exactly the same reading as my personal trainers bio-analysis and it's simply a way to track my progess regardless of how "exact" it is. Once I get to the 8% mark I will get a water tank test done here at the University and again when my Tanita reads 6%. Water tanks (submersion) are the most accurate way to measure body fat, but the least available and least convenient.
With the gain of 1 pound lean mass, which is good, but not the result I'm looking for just yet. Weight Gain is a whole other story and one left for the summer and next fall. Right now my focus is on my goal of 6% body fat. I am reviewing an awesome book called Optimum Anabolics by Jeff Anderson right now to get myself ready to apply that knowledge for Muscle Gain when the time comes.
I have made changes to my caloric intake based on "Burn the Fat, Feed the Muscle" to create a caloric deficit this week with my goal of 1% body fat loss by next Thursday. I have also made changes to my cardio routine too.
While some people might see the "no change" in body fat with a week worth of effort as being stagnant or a wasted week, I do not. In fact, I see it as a very positive thing. I learned a lot about the effect my dietary intake had on my body. It was a very valuable week for me. I have modified my food intake and my exercise routine accordingly and will post next week's results of my burn the fat, feed the muscle program. This was a good week! Plus, the extra pound of lean body mass makes my cardio routine more effective and that's a very good thing too!
Week 3: Jan 20, 2005
Body Fat Percentage: 10% -

Decrease of 2.5%

- Tanita Scale

Weight: 219 lbs -

Decrease of 5 pounds

- Tanita Scale

Lean Body Mass: 197.1 lbs -

Increase of 1 pound

Body fat: 21.9 lbs -

Decrease of 6.1 pounds

Total Body Water: na

Neck: na

Shoulders: na

Chest: na

Arm Relaxed: na

Arm Flexed: na

Waist point 1: na

Waist point 2: na

Thigh: na

Calf: na
Note:
Well, I'm
FAIRLY
happy with the results from this past week if I do say so myself! I even allowed myself a cheat meal last Saturday evening of pizza. Actually a pizza and a half with crazy bread (from Little Caesars). I felt like crap afterwards so lesson learned. I already have my cheat meal for next time planned. I'm only going to do a cheat meal if my re-feed day falls on a weekend.
This transition from week two to week three was an off week from weight training. My trainer calls it a transition week from one program to the next. I took the opportunity to do lots of extra cardio. I did an hour of HIIT in the am in a fasted state, then another 1 hour session in the evening. 14 fricken hours of cardio last week. Backing it off to 1 hour in the am from now on and I'm back into my weight training, which feels sooooooooo good.
Goal for this coming week is just to continue my progress of my burn the fat, feed the muscle program.
Week 4: Jan 27, 2005
Body Fat Percentage: 10% -

No Change

Weight: 221 lbs - Increase of 2 pounds

Lean Body Mass: 198.9 lbs -

Increase of 1.8 pounds

Body fat: 22.1 lbs -

Increase of 0.2 pounds

Total Body Water: na

Neck: na

Shoulders: na

Chest: na

Arm Relaxed: na

Arm Flexed: na

Waist point 1: na

Waist point 2: na

Thigh: na

Calf: na
Note:
Increase of Muscle mass. Did not adjust my caloric intake during the week to account for the drop of 5 pounds last week. Have adjusted my calories for the upcoming week, keeping proteins, carbs and fat levels the same. Cardio is staying at 1 hour of HIIT each morning.
Goal for this coming week is to burn at least 1% bodyfat and to just notice the effect of the change of calories.
Week 5: Feb 03, 2005
Body Fat Percentage: 8% -

Decrease of 2%

Weight: 221 lbs - No Change

Lean Body Mass: 203.3 lbs -

Increase of 4.4 pounds

Body fat: 17.68 lbs -

Decrease of 4.4 pounds

Total Body Water: na

Neck: na

Shoulders: na

Chest: na

Arm Relaxed: na

Arm Flexed: na

Waist point 1: na

Waist point 2: na

Thigh: na

Calf: na
Note:
I'm not sure what to say about the numbers above. I'm just doing the math based on the reading I'm getting. 221 pounds @ 8% = 17.68 pounds of fat. Subtract that from the weight and you get 203.3 lean mass. Subtracting the numbers from the week before gives me the results you see above. There are a lot of factors that can influence the results such as body water, bowel movements etc, but for 2 years now, I've always done the weighing under the same circumstances (first thing in the morning after I've taken a leak and before I have any water). Averaging out the results over a month of weekly testing should at least give a close idea of accuracy. As far as the mirror goes, yes, I see myself dropping the fat quite rapidly and in fact, I was so stunned
Yesterday
morning at what I saw, I weighted myself a day early too. I was at 8.5% at 221.5 yesterday morning. Like I said before, once I get to the 6% mark based on the Tanita scale, I'm going to get a dunk tank test done to determine exact bodyfat level.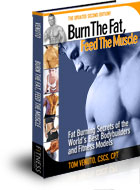 It's these results that keep me motivated to get up early every morning and do cardio for an hour. I've got 1.5 weeks until I leave for my Caribbean cruise, so my only goal is to keep doing cardio until then. During the cruise I'm just going to take the week off, eat, and recuperate from a month of heavy workouts.
Oh, also, I've spoken with my trainer and next week I'll be getting measurements taken too.