I simply cannot believe this. My mentor,

T.Harv Eker

is offering his 3 day
Millionaire Mind Intensive
for free!
$2590 Value!!!
I have taken Harv's courses and now volunteer my time each summer to help facilitate the events. This course and all his others are transformational! I keep going back to see the magic work in other people's lives. This is an opportunity not to be missed. Act now and get yourself and a family member into this course for free.
"The Universe is dynamic. Everything is in a state of constant motion and change. Meaning that at every moment you are either attracting success or repelling it. At the Millionaire Mind Intensive you will change your money blueprint right on the spot and recondition yourself for "automatic" success. Success will become your natural way of being and good fortune (luck) will follow you wherever you go, whatever you do"
Millionaire Mind Intensive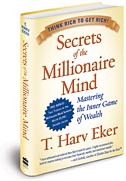 Buy the Book, get 2 tickets to the Millionaire Mind Intensive...

a $2590 Value!!!
for free...
Click here Now!