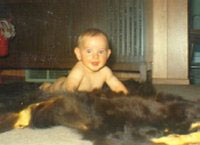 Weight Loss Story
I was born in Melfort Saskatchewan when I was very very young. (I put that joke on an essay in school in grade 11 and he didn't get it!). My mother was a good cook, and was health conscious. We always had fruit on the table for us to snack on.
The earliest I remember having a weight problem was in grade five. My Weight loss story begins there I guess. I was 175lbs and mom decided that I should attend Weight Watchers. I went religiously (Ha...meetings were held in the basement of a church) for I can't remember how long. I also don't remember if I lost any weight. I do remember that I had a sunflower seed habit of eating 1 family pack of SS every day! I remember that because I was told that I couldn't keep that habit up as SS were almost total fat.
For the next couple of years I was pretty steady at playing hockey in town, so got some steady exercise. Then in grade seven I gave up hockey and the weight started to pile on.
During grade seven, eight, and nine, I was so self-conscious of my weight that I always wore an eiderdown vest to try and conceal my weight. I never took that stupid thing off! It got to the point where I was called to the office by the principal and ordered to take it off.
This was one of the most embarassing moments in my story. I had been called to his office simply because of the coat and my weight. I thought about how all the teachers had been discussing my weight and this was the final product of their conversations. Then... then I had to walk back to my room and spend the rest of the day and upcoming weeks without my protective coat hiding my weight.
My recollections of grade 10 are that I ate at least 1 chocolate bar, 1 Super Big Gulp and 1 entire bag of Zesty Cheese Taco's every single day. By grade 12, I was 320lbs
Continue to read about my weight loss story... High School
About this Weight Loss Story
This is the weight loss story of how I achieved a max weight of almost 500 pounds and then went on to shed 300 pounds of it. This website has become a living being representing the tools I used, the methods I used to get fit and other weight loss ideas and philosophies. My Story is not necessesarily unique, and I aplaude anyone who takes on this sometimes tremendous task. It all begins with a decision to do something and then acting on what you learn and putting it into practice. There are no failures, but rather lessons about what worked and what didn't work. Your weight loss story may very well be similar, so begin now.
Free Report - How I Lost 300 Pounds
As a special bonus, I am giving away my free report "How I Lost 300 Pounds - How To Lose 10 Pounds a Month, Every Month, Until You Reach Your Goal Weight" to subscribers of my monthly natural weight loss newsletter. Simply sign up (for free) using the form to the right (in the red box), and you will be given immediate access to the report.